What is DroidJack Crack v5?
DroidJack Crack seems to be an iPhone remote administration service that enables customers to commandeer women's devices. It was previously established as Sandwort by Kaspersky. DroidJack Cracking was created by a Google play programmer having previously worked using Apps available Users access it to execute specified tasks on such a faraway cellphone. Droidjack Unlocked can be downloaded now. People stand out among other Smartphone cracking applications although users could infiltrate Messaged securely. This technology does have a whole additional level of performance. Since being unveiled at the Hacking Symposium in September 2014, Sander was exploited for strategic initiatives targeting refinement bank customers.
DroidJack Crack is safe
There is a police crackdown on people who bought DroidJack, a remote access Trojan available for sale on underground forums for around $200. Police have raided homes and made arrests across Europe and the US, apprehending people suspected of installing the mobile phone malware. The law enforcement agencies across Europe have searched different homes as a part of an international crackdown against this notorious piece of android malware, according to Naked Security from Sophos. This could be your ticket if you wish to stalk someone's activities and movements. It allows users to take remote control of someone's android device without them noticing, reading emails, and browser history, recording private conversations, and text messages, and tracking down the user's physical location.
DroidJack Crack is Free
This page should have stopped you now from searching any further if you were looking for the DroidJack APK Download in the full version. One of the most versatile and stealthy Android remote administration tools that you can install for free. Try it and let us know how it compares with what you have already been using.
DroidJack Poses as a Legitimate Tool
Once DroidJack is deployed, it can allow the attacker to monitor the victim's devices and access a large portion of Android's features and sensors. For example, a threat actor could spoof text messages via the victim's phone, collect files, hijack contacts, and even record phone calls, videos or audio easily.
The DroidJack application has been around for many years, and modern Android anti-virus products are capable of identifying its traits and blocking it before it can cause any damage perfectly. The best way to ensure that your Android device 100% from such malware is to invest in a reputable anti-malware application with active protection modules. As an additional layer of security, you should try to stay away from applications from unknown sources – it is best to stick to using Android applications from the official Google Play Store.
You Also Like This Software !!  EagleFiler Crack
DroidJack Crack Key Features:
Users can bind their server APK with any application or game.
They can explore files with full access
Read or write messages
Make and record calls as well as browse call logs.
Read as we all write the contact list.
Users can capture pictures and make videos.
Able to listen to live conversation through mic, record mic sound live.
They can check for browser history.
Get GPS location
Keep a check on the installed applications.
Fully stealth
Provides core information like IMEI, PHONE CARRIER, WiFi SSID, and Mac address of the adapter.
Communication browser
Far eyes to take pictures from the front or back camera also record video
Ears far away to hear the live microphone
GPS locator to get the latest location of the victim
Application Manager Read installed applications
Detailed info Get your IMEI number and more
DroidJack Crack Main Functions:
Look after those you care about.

The possibilities are endless the DroidJack suite it has tools to monitor everything you could possibly imagine and give you peace of mind that your children or other loved ones are safe.

Customize.

Don't Like the way your client looks? Then change it! DroidJack allows you to theme your client however you'd like and achieve a truly personal feel when using it.

Easy to use.

DroidJack's GPS tools let you keep real-time tabs on where your loved ones are going and for how long, it even presents that information in a familiar and easy-to-use way…via Google Maps!

Personalize it Don't like the way your customer looks? Then change it! DroidJack Crack allows you to create a theme for your customer however you want and truly personalize it when using it.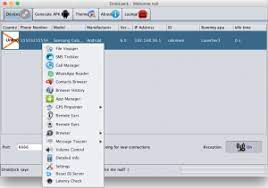 System Requirements:
Java runtime environment
1 GHz processor
Works with all versions of Windows
You only need 50 MB of space
What's new in DroidJack Cracked:
Other bug improvements
Improved interface
GPS locator to get the latest location of the victim
Application Manager Read installed applications
Detailed info Get your IMEI number and more
How to download DroidJack Android V5 Crack?
Download the file from a specific link.
After extracting this file.
Install the configuration from the file.
Finally done and enjoy the latest version of 2022.
You Also Like This Software !!  AnyMusic Crack
DroidJack Crack v5 + Android Remote Administration Tool (Mac) {upated} 2022 Free Download